Spotlight: Matthew Culley
Spotlight on Solar Pro Matthew Culley
For July's staff spotlight, Renu is highlighting someone who both coworkers and clients have suggested for recognition: Matthew Culley! Matthew is Renu's go-to-guy for commercial solar sales. He has been with Renu Energy Solutions for almost two years where he works as Renu's business development guru. He graduated from the University of North Carolina at Chapel Hill with a degree in Environmental Science and Public Policy. Matt says he wanted to work in sustainable energy ever since he started at UNC Chapel Hill.
"I took a couple of classes at Carolina that really sparked my interest in renewable energy – I remember designing wind turbine blades and testing RPMs in a wind tunnel during a summer class. In that same class we also visited several solar farms and learned about the utility scale solar business model."
He loved renewables, so when he found Renu — the rest became history! Some of his biggest daily tasks include modeling solar systems and modeling financials for businesses. He also helps the operations team and marketing team. In operations, he assists in coordinating projects from the point of sale until the customer is installed! In marketing, he assists in finding new commercial opportunities and working with Renu's graphic designer for commercial advertising. He's a jack of all trades! What he loves most about Renu is the finished product,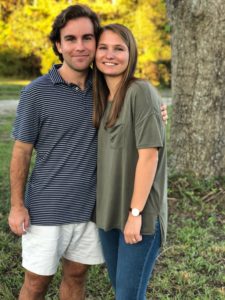 "Our finished product is some of the best in the industry. At the end of the day, it is incredibly cool to be able to point to an array on a building and say "we built that, and it is saving the environment."
After work, Matt enjoys running and watching Carolina basketball. He is also deeply religious and puts his Christian values before anything. He sees solar as a way to protect God's creations! In addition, he just celebrated getting married to his longtime girlfriend, Emily, on March 23rd. Matthew Culley is invaluable to Renu Energy Solutions! He makes our lives easier every day with his funny off-hand comments, positive attitude, and dedicated work ethic. Thanks for all you do, Matt!
Read our feature on another solar professional: Frazier Spann, Solar Team Lead
Read another feature on a solar professional: Hannah Elliott, Operations Supervisor
Read about the experience of Austin Winecoff, Summer 2018 Solar Installation Intern
Read about our two summer 2018 operations interns, Jenny Nguyen and Sam Robbins
Read about Logan Peterson, our summer/fall 2018 Operations Department Intern
Read about Christina McClain, our Jr. Project Coordinator
Read about Jeff Stewart, our Director of Alternative Finance
Frequently Asked Questions About Solar for Your Home:
How exactly does going solar and a solar system itself work?
Solar energy begins with sunlight that hits the panels to produce energy that flows into your inverter, which converts the DC energy into Alternating Current (AC) electricity that can be used to power your home. This same energy is then consumed when powering your home's light, appliances, gizmos, and gadgets. If you feel your home isn't producing the energy that it needs, the utility will fill in the gaps. If you system produces more energy than needed, that energy will go to the grid and your utility will credit you for the unused power.
How many solar panels do I need for my home?
At Renu Energy Solutions we design our solar panel systems size based on three main factors.
Roof-size/available space: When we look at the size of your roof and the space available, we gather data that tell us the maximum number of solar panels your home or site can hold and we even consider shading. We use a software "Suneye" which takes a 360 picture of your roof and we use this photo to determine if your home is a good candidate for solar.
Energy Usage: When we determine energy usage we look at your past electrical bills from over the course of a year to make sure your system isn't too big or too small.
Your Budget: We take your budget seriously and most importantly, we want you to be satisfied with our services. We take your feedback on how much you want to spend so that we can size your system appropriately.
What is solar net-metering?
Net-metering is a type of utility policy that controls how your system is connected to the grid and how you are credited for the solar energy you produce.
Does Duke Energy offer net-metering?
Yes! Both Duke Energy Carolinas and Duke Energy Progress territories in NC offer net-metering when your homes goes solar. If you are interested in net-metering, no worries. Our team will guide you through the process as certain utilities have a different application procedure.
Curious about the cost of a home solar system?
When our clients ask this question, we immediately tell Tham about the federal tax credit that comes with going solar. The Federal tax credit for going solar is 26% in 2020. For example, if the total cost of you system was $22,000, when you subtract 26% you are then left with a %16,280 solar system. There is not set price for a home going solar as there are many factors that contribute to the total cost. The price of a solar home can range from $10k to $100k based on the size of your roof, energy usage, aesthetic preferences, and of course, budget.
Start Your Solar Journey Now!
Speak to Us Today!
Home Solar System
The amount of electricity that a solar energy system will produce will depend on a number of factors, including the location of the home, system design, and much more. Ideally, a home with an unobstructed south-facing view will produce more than enough energy.
---
Energy Storage
Installing battery backup along with your solar energy system for home or business is a smart move and can increase the value of your clean energy investment as well as peace of mind when a grid outage occur.
---
EV Chargers
Electric cars – with no gas engine at all – now work for most budgets and lifestyles. With more and more models to choose from, drivers are choosing electric vehicles (or EVs) than ever before!
---
Ready to Own Your Own Energy?
Speak to Us Today!