Solar Installation During Covid-19
Renu's Process for Solar Installation During COVID-19
We are committed to continuing solar installation during COVID-19 while practicing CDC guidelines to maintain the health and safety of our clients, our team members and our community is our highest priority. We are also focused on keeping your solar installation moving forward.
That process requires a visit to your home by one of our site survey team and a solar panel and electrical installation. The solar panel installation can be done completely outside and the team of 2-3 solar panel installers have no need to enter your home or interact with you and your family. The electrical installation does require access into your home. After installation, the system will still require an inspection(s) which would also require access into your home
At a time when social distancing due to COVID-19 (coronavirus) is in effect, we understand this may raise concern. In order to be open and transparent, we're reaching out with this message to update you on our ongoing efforts to keep you safe.
These are extraordinary times and we are taking extraordinary measures to complete solar installation in a safe and secure manner, including:
Actively engaging with our employees to ensure that no one is conducting installations who shouldn't be – based on their recent travel, interactions, showing signs of symptoms, etc.
Working to ensure that our Renu Team members and partners understand and follow all CDC guidelines and best practices.
Encouraging site survey specialists and installers to take proper sanitary measures the entire time they are at your home.
Implemented social distancing policies in our office and warehouse such as staggering start times of our installation crews
What To Expect During a Solar Installation During COVID-19
To make these precautionary measures as effective as possible, we need your support. When our installation crew or site survey specialist arrives, they are going to ask to maintain physical distance of at least 6 feet, and they will not shake your hand. This isn't because they're unfriendly, it is because they're following CDC guidelines to maintain proper safety. They may even arrive wearing rubber gloves or a facemask as an added precaution. We respect their choice to do so, and ask that you respect it as well.
Our operations team may even ask about your health or recent international travel. We respect your privacy and don't need any personal details, but if you think you may be sick, or if you've visited an area with active outbreaks, please let us know and we'll happily come back at another time.
If you're uncomfortable about this process, now or at any time until your scheduled appointment, please reach out to operations team at (704) 525-6767.
We are eager to get your solar installed completed for you as quickly and easily as possible, but our primary commitment during this time is to keep you, our team members and our communities safe.
Thank you for your support and understanding the changes we've made to continue solar installation during COVID-19.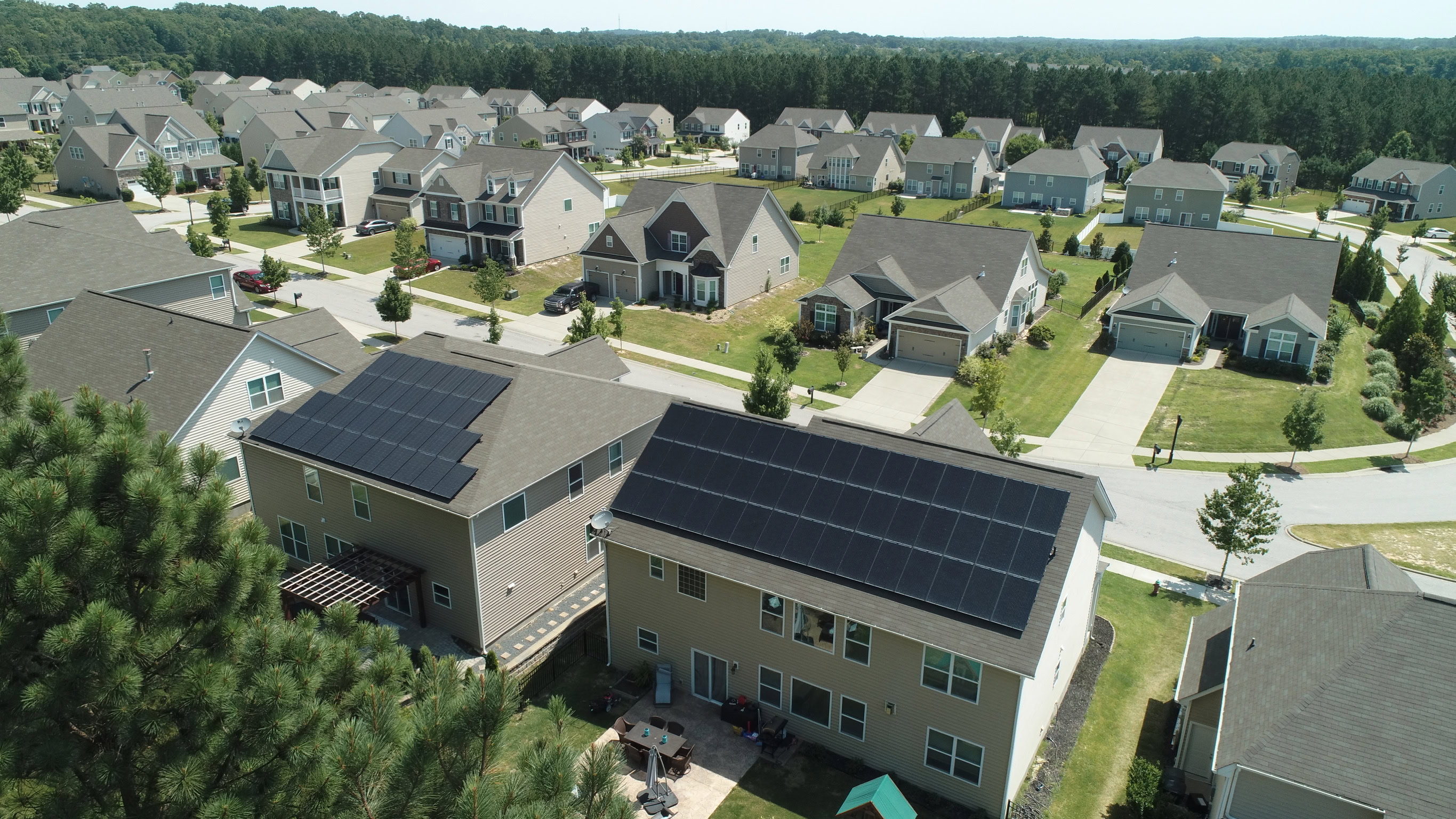 Frequently Asked Questions About Solar:
How exactly does going solar and a solar system itself work?
Solar energy begins with sunlight that hits the panels to produce energy that flows into your inverter, which converts the DC energy into Alternating Current (AC) electricity that can be used to power your home. This same energy is then consumed when powering your home's light, appliances, gizmos, and gadgets. If you feel your home isn't producing the energy that it needs, the utility will fill in the gaps. If you system produces more energy than needed, that energy will go to the grid and your utility will credit you for the unused power.
How many solar panels do I need for my home?
At Renu Energy Solutions we design our solar panel systems size based on three main factors.
Roof-size/available space: When we look at the size of your roof and the space available, we gather data that tell us the maximum number of solar panels your home or site can hold and we even consider shading. We use a software "Suneye" which takes a 360 picture of your roof and we use this photo to determine if your home is a good candidate for solar.
Energy Usage: When we determine energy usage we look at your past electrical bills from over the course of a year to make sure your system isn't too big or too small.
Your Budget: We take your budget seriously and most importantly, we want you to be satisfied with our services. We take your feedback on how much you want to spend so that we can size your system appropriately.
What is solar net-metering?
Net-metering is a type of utility policy that controls how your system is connected to the grid and how you are credited for the solar energy you produce.
Does Duke Energy offer net-metering?
Yes! Both Duke Energy Carolinas and Duke Energy Progress territories in NC offer net-metering when your homes goes solar. If you are interested in net-metering, no worries. Our team will guide you through the process as certain utilities have a different application procedure.
Curious about the cost of a home solar system?
When our clients ask this question, we immediately tell Tham about the federal tax credit that comes with going solar. The Federal tax credit for going solar is 26% in 2020. For example, if the total cost of you system was $22,000, when you subtract 26% you are then left with a %16,280 solar system. There is not set price for a home going solar as there are many factors that contribute to the total cost. The price of a solar home can range from $10k to $100k based on the size of your roof, energy usage, aesthetic preferences, and of course, budget.
Start Your Solar Journey Now!
Speak to Us Today!
Home Solar System
The amount of electricity that a solar energy system will produce will depend on a number of factors, including the location of the home, system design, and much more. Ideally, a home with an unobstructed south-facing view will produce more than enough energy.
---
Energy Storage
Installing battery backup along with your solar energy system for home or business is a smart move and can increase the value of your clean energy investment as well as peace of mind when a grid outage occur.
---
EV Chargers
Electric cars – with no gas engine at all – now work for most budgets and lifestyles. With more and more models to choose from, drivers are choosing electric vehicles (or EVs) than ever before!
---