Home Battery Backup for Energy Storage
The next generation of home battery storage has arrived, giving solar customers clean, reliable, and efficient backup power that also reduces their daily dependence on the power grid.
Grid-tied solar electric systems are a great way to save money using free power from the sun. However, most grid-tied solar arrays are designed to shut down when they lose grid connection. 
Installing home battery backup along with your solar energy system for home or business is a smart move and can increase the value of your clean energy investment as well as peace of mind when a grid outage strikes.
With an energy storage system for your solar, your life doesn't get interrupted when the power goes out. In the Carolinas, solar systems stop providing energy when an outage occurs as a safety precaution, preventing injury to neighbors and energy grid workers.
With battery backup, your solar system will be able to continuously keep your house running. The benefits of battery backup for solar power users include:
Enjoying additional savings on your home battery install by applying the same 30% federal tax that solar installations are qualified for

Keeping access to your solar power in the event of a grid power outage

Grid-connected solar users without battery storage have to use grid energy at certain times – for example at night – and the utility energy mix includes conventional, dirty sources. Battery owners can use their solar essentially 24/7 and can pursue a truly 100% renewable energy home.

Discover a greater degree of energy autonomy and assert maximum control over your own energy future
When you pair solar electricity with battery storage, you can supply critical loads of energy in your home or business. 
Renu Energy Solutions is also a Tesla Powerwall Certified Installer, which means we offer a customized solar-plus-battery solution that enables you to access the free, abundant power of the sun at your home and reduces your reliance on fossil fuels. Homeowners have been taking advantage of Tesla Powerwall since 2016 with Renu Energy Solutions. 
Home Battery or Generator? 
Some homeowners find solar energy especially attractive as a source of energy to fall back on if the grid goes down; however, for safety reasons, here in the Carolinas it's necessary to pair your solar with battery storage in order to use the solar energy you've produced during a utility outage.
If you already own a propane or diesel generator, you already have a backup energy source should the lights go out. An energy storage product, like the sonnenBatterie or Tesla Power Wall, represents an alternative to gas-powered means of generating power for critical purposes in an emergency, like refrigeration needed to chill medications and keep food fresh, or running medical devices or a wifi router to keep devices connected.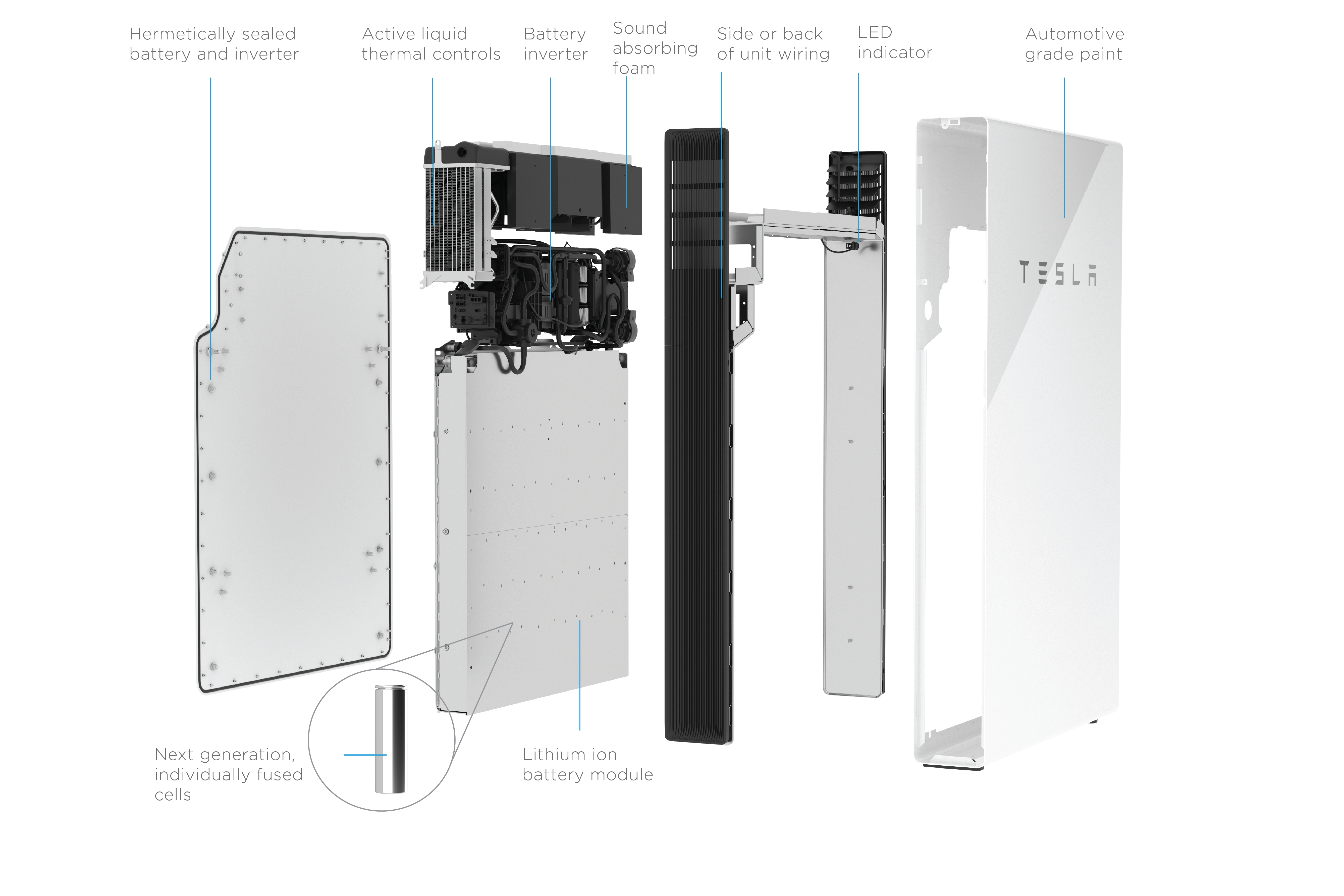 What is a Tesla Powerwall
Tesla Powerwall is a rechargeable lithium-ion battery designed to store energy at a residential level for backup power and self-consumption of solar power generation. Powerwall 2.0 can store up to 13.5 kWh of clean energy that with or without Solar can provide power to your home even when the grid is down. The unit mounts seamlessly on a wall and is integrated with the local grid to harness excess power and give customers the flexibility to draw energy from their own reserve.
Benefits of the Tesla Powerwall
If you live in the Carolinas, you know high winds and severe weather cause frequent power outages that impact consumers for days, if not weeks. With solar and Tesla Powerwall, you can continue to generate and consume power for your most important appliances and devices even when your neighbors have no energy.
With a Renu Solar + Tesla Powerwall(s) solution, the ability to ensure that 100% of the energy your home consumes is clean is now within reach.
Choose Smart. Reliable. Solar for Your Home Battery Backup
Energy storage pairs perfectly with solar: the Powerwall is compatible with previously installed Renu Energy Solutions solar electric systems. Tesla Powerwall increases the capacity for a household's solar consumption, while also offering backup functionality during grid outages. Contact us to add storage!
Frequently Asked Questions About Solar for Your Home:
How exactly does going solar and a solar system itself work?
Solar energy begins with sunlight that hits the panels to produce energy that flows into your inverter, which converts the DC energy into Alternating Current (AC) electricity that can be used to power your home. This same energy is then consumed when powering your home's light, appliances, gizmos, and gadgets. If you feel your home isn't producing the energy that it needs, the utility will fill in the gaps. If you system produces more energy than needed, that energy will go to the grid and your utility will credit you for the unused power.
How many solar panels do I need for my home?
At Renu Energy Solutions we design our solar panel systems size based on three main factors.
Roof-size/available space: When we look at the size of your roof and the space available, we gather data that tell us the maximum number of solar panels your home or site can hold and we even consider shading. We use a software "Suneye" which takes a 360 picture of your roof and we use this photo to determine if your home is a good candidate for solar.
Energy Usage: When we determine energy usage we look at your past electrical bills from over the course of a year to make sure your system isn't too big or too small.
Your Budget: We take your budget seriously and most importantly, we want you to be satisfied with our services. We take your feedback on how much you want to spend so that we can size your system appropriately.
What is solar net-metering?
Net-metering is a type of utility policy that controls how your system is connected to the grid and how you are credited for the solar energy you produce.
Does Duke Energy offer net-metering?
Yes! Both Duke Energy Carolinas and Duke Energy Progress territories in NC offer net-metering when your homes goes solar. If you are interested in net-metering, no worries. Our team will guide you through the process as certain utilities have a different application procedure.
Curious about the cost of a home solar system?
When our clients ask this question, we immediately tell Tham about the federal tax credit that comes with going solar. The Federal tax credit for going solar is 26% in 2020. For example, if the total cost of you system was $22,000, when you subtract 26% you are then left with a %16,280 solar system. There is not set price for a home going solar as there are many factors that contribute to the total cost. The price of a solar home can range from $10k to $100k based on the size of your roof, energy usage, aesthetic preferences, and of course, budget.
Start Your Solar Journey Now!
Speak to Us Today!
Home Solar System
The amount of electricity that a solar energy system will produce will depend on a number of factors, including the location of the home, system design, and much more. Ideally, a home with an unobstructed south-facing view will produce more than enough energy.
---
Energy Storage
Installing battery backup along with your solar energy system for home or business is a smart move and can increase the value of your clean energy investment as well as peace of mind when a grid outage occur.
---
EV Chargers
Electric cars – with no gas engine at all – now work for most budgets and lifestyles. With more and more models to choose from, drivers are choosing electric vehicles (or EVs) than ever before!
---
Ready to Own Your Own Energy?
Speak to Us Today!